Gun Dog Training Program
Double A Gun Dogs offers training services for the discerning dog owner.
Hunting and gun dogs are a way of life here! Our kennel and training program offer a hands-on, intimate experience for the owner/handler and dog. We provide a level of care we expect for our own dogs – "all day service." Our home is located a few yards away from the kennel, allowing for instant access and 24 hour surveillance. We train a small group of dogs per session to allow for the best training results.
We are located near the  Sioux City, Iowa and Omaha, Nebraska areas.
Double A offers a saturated two-month program that has been developed over years of guiding and dog training between the Midwest and the west coast. We offer training for both upland and waterfowl dogs that focuses on performance while still allowing your dog to be a family dog.
The Training Program
Birds make the dog. Birds will train your dog better than any other training method. Our training program includes scenarios with planted birds that bring out the natural ability in your dog's breeding. Heavy bird work provides the best results for your time and money. We build a prey drive and then fine tune that drive for the owner/handler.
With any training program here at AA, we train WITH you and your pup as long as needed to get you both comfortable with the commands and handling that have been introduced in training. We encourage you to come a few times during your dogs' sessions to train along with your dog. You will be helping throw marks, learn how to plant/handle live birds, and learn different training scenarios for your dog that you can perform at home with the help of your family. You'll watch many different dogs training, including your own! These sessions will increase your effectiveness as a handler. Plan on a few hours for these sessions. Depending on where your dog is in the training program, you may have an opportunity to shoot over your dog.
Communication is THE most important part of our program. We keep in close contact with the dog owner, tracking and reporting your dog's progress every step of the way. Calls or texts are welcome whenever you are wondering how your dog is doing. We take videos when we can and when there is a really special moment, we try to get it on camera!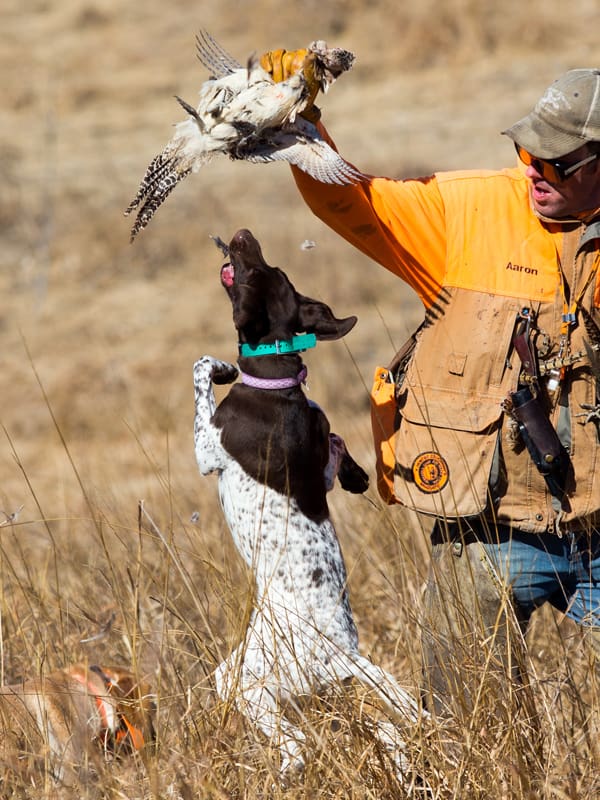 Conditioned retrieves are a major component of our advanced training. We have developed a low pressure method for teaching a responsive "fetch" command. This has proven effective for even the most stubborn or "soft" dog. We built a very comfortable and large retriever bench that the dogs love! We train "fetch" and "hold" and use various retrieving tools on this bench before we move into the yard….including birds!
Once we move into the yard we do piles and obedience: "sit/whistle sit" and "heel."
During these sessions the dog is introduced to the "back" command. In most cases this is the middle of the second month.
Advanced training also includes doing marks on our pasture property. There is flat grass, cover breaks, and water obstacles. We stretch the dog out to maximize its marking ability and fine-tune the retrieve and general obedience.
When your dog reaches this point we strongly encourage you to join us for these sessions, helping throw marks and learn more about handling.
I created the "90 Bird Tune Up" in Washington while working with Tiger Mountain Pointing Labs. As we were fine tuning gun dogs for clients that had waited all year to make one week of hunting in eastern Montana last a whole season, we realized….. IT HAS TO COUNT.
This program offers a training "cram session"  for dogs to learn how to negotiate all of the terrain and scenarios they will encounter in the upcoming season.
This is my favorite training program to teach because it's straight up bird finding for your dog, with challenging planting scenarios in a variety of terrain.
90 birds in 30 days – generally more than the average hunter shoots in a season! This is how I train my own guide pack for the busy upcoming season.
I only want you to have an enjoyable time in the field with your dog. There is nothing better than appreciating a dog's performance in the field.  Most of the time, anymore, I leave my gun home and watch my friends and clients enjoy the show… and that is what it's all about.
Boarding services for your bird dog.
We offer limited boarding in a relaxed, rural environment.
Let your dog come and hang out with his hunting buddies while you need to travel for work or take the kids on vacation.