Double A Outfitting & Gun Dogs
DOUBLE A
Outfitting & Gun Dogs
Whether you are looking to start a puppy onto birds, expand on your bird dog's training with retriever and fetch work, prep for dog trials, or refresh your dog before the upland or waterfowl season begins, we can create a custom training program to meet your dogs' needs.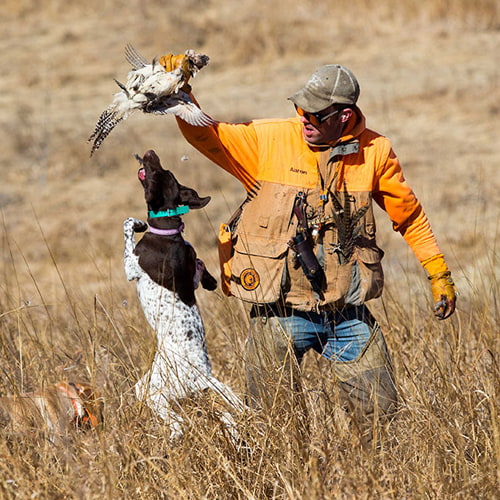 Our in-depth training program offers tons of bird work for your gun dog.
Our dogs have been featured on Scott Linden's Wingshooting USA. Check out the video here.
Listen to an interview with Aaron and Reid Bryant on the Orvis Hunting & Shooting Podcast here.
Upland and waterfowl hunting is what we love to do! We hunt an amazing property in Western Nebraska where we offer a limited number of waterfowl membership opportunities, as well as offer guiding services for upland and waterfowl throughout Nebraska, South Dakota, Kansas, and the surrounding states.
Our dogs live to hunt and have been featured on Scott Linden's Wingshooting USA, and in Nebraskaland Magazine. Our pack includes seasoned German Short Haired Pointers and Labrador Retrievers.
Good food and good hunting go hand in hand.  Check out our recent collaboration with Midwest Food Stories and chef Nick Strawhecker of Dante and Forno, in Omaha Nebraska:
Are you looking for dog boarding in the Omaha or Sioux City area?
We offer limited dog boarding throughout the spring, summer, and fall seasons. Pick-up and drop-off service is available to the Omaha area several days a week.  Don't let your dog sit in a kennel while you are on vacation – get him thinking about bird hunting!
Our dogs are part of our family. We treat your dog the same way.
What are you waiting for?
What are you waiting for?