Double A Outfitting & Gun Dogs
DOUBLE A
Outfitting & Gun Dogs
Whether you are looking to start a puppy onto birds, expand on your bird dog's training with retriever and fetch work, prep for dog trials, or refresh your dog before the upland or waterfowl season begins, we can create a custom training program to meet your dogs' needs.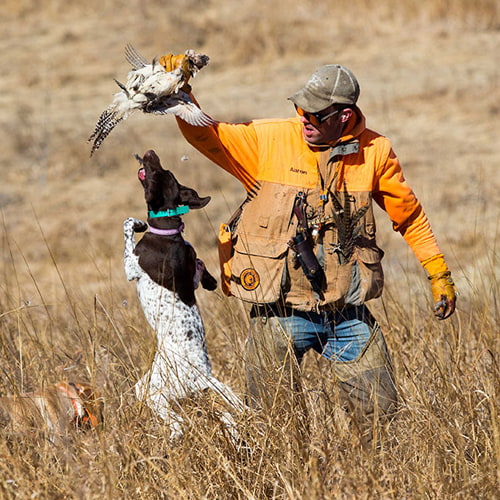 Our in-depth training program offers tons of bird work for your gun dog.
Our dogs have been featured on Scott Linden's Wingshooting USA. Check out the video here.
Listen to an interview with Aaron and Reid Bryant on the Orvis Hunting & Shooting Podcast here.
Upland and waterfowl hunting is what we love to do! We hunt an amazing property in Western Nebraska where we offer a limited number of waterfowl membership opportunities, as well as offer guiding services for upland and waterfowl throughout Nebraska, South Dakota, Kansas, and the surrounding states.
Our dogs live to hunt and have been featured on Scott Linden's Wingshooting USA, and in Nebraskaland Magazine. Our pack includes seasoned German Short Haired Pointers and Labrador Retrievers.
Good food and good hunting go hand in hand.  Check out our recent collaboration with Midwest Food Stories and chef Nick Strawhecker of Dante and Forno, in Omaha Nebraska:
Are you looking for dog boarding in the Omaha or Sioux City area?
We offer limited dog boarding throughout the spring, summer, and fall seasons. Pick-up and drop-off service is available to the Omaha area several days a week.  Don't let your dog sit in a kennel while you are on vacation – get him thinking about bird hunting!
Google Reviews
Aaron did an awesome job while my wirehair was at his place for his foundation program, from keeping me up to date on how she was doing to also helping with all my questions and even giving me pointers on how to continue our training to get her to be a master BIRDFINDER! I will be sending all my hunting dogs to see him in the future.

Jacob Ostlund

4/01/2021

I am new to bird hunting and wanted the best for my new bird dog. After a lot of searching and a long phone conversation I decided to have my dog trained by Aaron at AA Gundogs. Not only did Aaron do an excellent job with my Zoey, but he also taught me a lot about bird hunting as well. He provided weekly updates on how the dog was doing and answered every question that I asked him. I feel comfortable asking him questions even after the training has been completed. I will also be boarding my dog there when I go on trips due to his attention to all animals under his care. Would highly recommend Aaron at AA for any level of training you want for your dog!

Nick Manganaro

3/28/2021

Wouldn't have wanted to send our GSP pup anywhere else. We had a ton of questions for Aaron, and he was always very helpful and responsive throughout the entire process. The training sessions were great and seeing our dog work in the field was very impressive. Aaron and Double A Gun Dogs did a phenomenal job training our GSP and I would recommend it to anyone looking for a place to send their hunting dog.

Nick Franzitta

3/27/2021

Aaron did a great job! He produced what he promised. Remi is now ready for the Pheasant season after 2 months training. I will bring my next dog back to Double A!

Duke Boston

10/05/2020

Aaron is extremely professional. Works great with difficult dogs. A very honest trainer that tells things as they are. My dog milly had separation anxiety, and he still finished training her on time. He did an amazing job with my dog and can't wait for many years of hunting

Joe Owens

7/19/2020

Looking to have someone train your dog? Look no further! Aaron has trained our lab since she was 6 months old. He does an outstanding job training them to hunt, guide and we also use his boarding services. It can be scary leaving your dog with someone else for a while, but there is a true special bond that is created between your dog and Aaron. He really gets to know your dog and treats them like his own. We keep coming back a couple times a year. I highly recommend him! Well worth the short drive.

Coni Almquist

7/16/2020

Working with Aaron was great! As I am new to training and working with hunting dogs, he was able to answer all of my questions and was very professional. He took great care of Thor and will help cater to any special needs your dog might have. He kept us updated often with pictures and videos on how Thor was progressing. I am very pleased with the training Thor received. I will definitely continue working with Aaron at Double A Gun Dogs and will recommend others looking for dog training to go work with him.

Andrew Reynolds

7/14/2020

I don't often give out 5 stars but Aaron has earned his. For the better part of a decade, I've been using Aaron's services: hunting/guiding, having him train or board my dog. There are lots of reasons I keep coming back but the chief reason is he runs his program as a way of life, it's not just a job. Too many outfitters and trainers just churn through their clients. Aaron will give it to you straight and he's fair. Your dog will turn out awesome. He'll put you and the dog on birds. The company in the blinds and camp is great too. You'll be leaving a similar or better review if you call him.

Tim Lorang

7/10/2020

Aaron is such a great person! I'm super glad that he was the one to train our dog, Thor! We noticed such a big difference in him when we brought him back home. He's doing great and we're excited for this bird hunting season!

Gabriela Benavides

7/07/2020

I researched for a yellow lab pup over a year before picking a litter and getting a female yellow lab pup in late July of 2019. My intentions were to train this pup myself but due to work and time constraints my training plan didn't occur. Before I knew it spring of 2020 was here and while I had a great family dog she wasn't a hunter, she wasn't even introduced to gun fire yet. I wondered could she be a hunter? That is when I started looking for a professional trainer, research let me to three options in my area and I am pleased to have chosen Aaron at Double A Gun Dogs. The decision to send my 11 month old yellow lab to Aaron was the best decision ever. After a short time Aaron called to let me know my lab had the drive, nose and ability to be a gun dog. So we set up a training schedule. Fast forward and after our agree'd upon training time I made the drive out to Aaron's to see the progress my lab had made. After a morning of planted bird exercises I was amazed at the advancements my pup had made. Aaron walked me through how to handle my lab and I saw for myself a collar conditioned hunting dog better than I could ever hope for. Aaron was quick to offer advice on continued steps for me to use training at home and even sent a few pigeon's with me for future training. I absolutely plan on bringing her back for additional training in the future. Aaron at Double A Gun Dogs is a top notch trainer I would recommend to anyone looking for help training their hunting dog.

Kevin Wilmes

6/25/2020

I've been breeding vizslas my whole life. Took my new stud dog to Aaron because I felt he was behind and needed to get some birds under his nose. Aaron did an exceptional job with Joe. His drive has increased and his bird finding abilities are amazing after spending two months with Aaron. He also retrieves right to the hand every time. Well kept and maintained facilities. Plan on sending more dogs to him in the future!

Josh Schaben

6/15/2020

I took my Chocolate Lab who was 10 months at the time to Aaron. Before, I chose Double A Gun Dogs I looked around the Omaha area for a trainer and nothing really clicked for me and didn't get a good vibe. I went up to see Aaron and he was straight forward and honest about the whole process and he kept in constant contact with texts , calls , sending short video clips of my dog. During the 8 weeks my lab was there i went up a few different times and was apart of the session. I strongly recommend Aaron to anyone and I know and will be using him again.

Andrew O'Connor

5/18/2020
Our dogs are part of our family. We treat your dog the same way.
What are you waiting for?
What are you waiting for?