Double A Outfitting & Gun Dogs
DOUBLE A
Outfitting & Gun Dogs
Whether you are looking to start a puppy onto birds, expand on your bird dog's training with retriever and fetch work, prep for dog trials, or refresh your dog before the upland or waterfowl season begins, we can create a custom training program to meet your dogs' needs.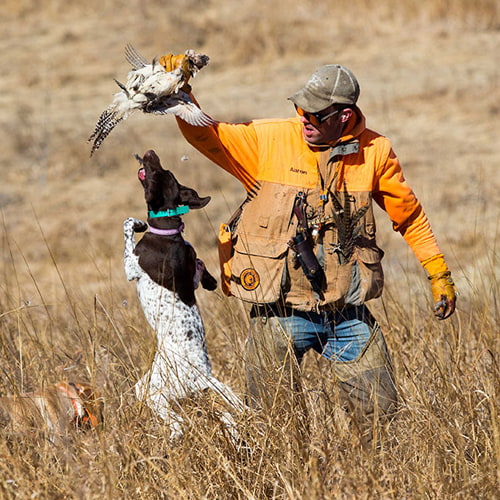 Our in-depth training program offers tons of bird work for your gun dog.
Our dogs have been featured on Scott Linden's Wingshooting USA. Check out the video here.
Listen to an interview with Aaron and Reid Bryant on the Orvis Hunting & Shooting Podcast here.
Upland and waterfowl hunting is what we love to do! We hunt an amazing property in Western Nebraska where we offer a limited number of waterfowl membership opportunities, as well as offer guiding services for upland and waterfowl throughout Nebraska, South Dakota, Kansas, and the surrounding states.
Our dogs live to hunt and have been featured on Scott Linden's Wingshooting USA, and in Nebraskaland Magazine. Our pack includes seasoned German Short Haired Pointers and Labrador Retrievers.
Good food and good hunting go hand in hand.  Check out our recent collaboration with Midwest Food Stories and chef Nick Strawhecker of Dante and Forno, in Omaha Nebraska:
Are you looking for dog boarding in the Omaha or Sioux City area?
We offer limited dog boarding throughout the spring, summer, and fall seasons. Pick-up and drop-off service is available to the Omaha area several days a week.  Don't let your dog sit in a kennel while you are on vacation – get him thinking about bird hunting!
Google Reviews
I researched for a yellow lab pup over a year before picking a litter and getting a female yellow lab pup in late July of 2019. My intentions were to train this pup myself but due to work and time constraints my training plan didn't occur. Before I knew it spring of 2020 was here and while I had a great family dog she wasn't a hunter, she wasn't even introduced to gun fire yet. I wondered could she be a hunter? That is when I started looking for a professional trainer, research let me to three options in my area and I am pleased to have chosen Aaron at Double A Gun Dogs. The decision to send my 11 month old yellow lab to Aaron was the best decision ever. After a short time Aaron called to let me know my lab had the drive, nose and ability to be a gun dog. So we set up a training schedule. Fast forward and after our agree'd upon training time I made the drive out to Aaron's to see the progress my lab had made. After a morning of planted bird exercises I was amazed at the advancements my pup had made. Aaron walked me through how to handle my lab and I saw for myself a collar conditioned hunting dog better than I could ever hope for. Aaron was quick to offer advice on continued steps for me to use training at home and even sent a few pigeon's with me for future training. I absolutely plan on bringing her back for additional training in the future. Aaron at Double A Gun Dogs is a top notch trainer I would recommend to anyone looking for help training their hunting dog.

Kevin Wilmes

6/25/2020

I've been breeding vizslas my whole life. Took my new stud dog to Aaron because I felt he was behind and needed to get some birds under his nose. Aaron did an exceptional job with Joe. His drive has increased and his bird finding abilities are amazing after spending two months with Aaron. He also retrieves right to the hand every time. Well kept and maintained facilities. Plan on sending more dogs to him in the future!

Josh Schaben

6/15/2020

I took my Chocolate Lab who was 10 months at the time to Aaron. Before, I chose Double A Gun Dogs I looked around the Omaha area for a trainer and nothing really clicked for me and didn't get a good vibe. I went up to see Aaron and he was straight forward and honest about the whole process and he kept in constant contact with texts , calls , sending short video clips of my dog. During the 8 weeks my lab was there i went up a few different times and was apart of the session. I strongly recommend Aaron to anyone and I know and will be using him again.

Andrew O'Connor

5/18/2020

I've taken two of my dogs to Aaron and have been nothing but impressed. He does a great job of keeping you informed on how the training is going. My favorite part was that he encouraged me to come up and check out how the training is going and also participate in his techniques. I would recommend Aaron to anyone. Both of my dogs are pheasant hunting machines now.

Russell Meyer

5/08/2020

Aaron is the ONLY dog trainer I will use and unequivocally recommend. He has trained several of my own dogs, and numerous for my hunting partners. Aaron is the only trainer that I have seen where my dogs can't wait to go back and see him! With Double A Gun Dogs you don't just get standard dog training...you get some more. He takes the time to "train" the handler too. Aaron takes the time to show you all the dogs on his trailer, various levels of progress, and always makes sure you are 100% satisfied. Even his post training customer service is second to none...he is always a quick call or text away to help with any training questions or concerns that may come up afterwards! My dogs won't go anywhere else!

Brandon Orr

5/03/2020

Aaron has trained 2 dogs for me so far as well as my parents pup. While breeding goes a long way in making a dog in the field, a good start with a phenomenal handler takes them to the next level. His enthusiasm for his work carries through to the bond he forms with the dogs he trains. The drive he portrays to take you and your dog farther than imaginable allowed me to work to master blind retrieves with directional casting with my 2.5 year old pointing lab. Foundation work, advanced work, refresher work - Aaron excels at it all and so will your dog.

Laura Makarewicz

5/03/2020

I took my seven-month-old boykin spaniel to Aaron. I did research on a lot of different trainers and felt Aaron was the right fit. Aaron was always available to text or call and kept me in the loop the whole time my dog was there. I was able to go and train alongside of Aaron to learn how to handle my dog. My dog is a totally different dog after coming back. He is a retrieving machine and loves to retrieve. Aaron developed a prey drive in my dog like no other. If you want a no-nonsense trainer that gets the job done go see Aaron at Double a gun dogs. You won't be disappointed 😉.

Doug Dean

4/27/2020

I took my Lab to Aaron after a great deal of research. Three months later, I picked up a retrieving machine. Aaron gave me updates weekly, sent pictures, and explained the progress and set backs completely. He was honest about everything. I will never take my dogs anywhere else! Thankyou Aaron, for all the great hunts in my future!

Tim Horton

5/20/2019

Aaron was a complete professional, he took our very young Brittany and exceeded all expectations. We look forward to working with him and the future and referring all our friends. He has great care, expertise, and love of dogs. Could not speak any more highly of him!

Mackie M

4/15/2019
Our dogs are part of our family. We treat your dog the same way.
What are you waiting for?
What are you waiting for?